Malibu is a gorgeous beach city located just 30 miles west of Downtown Los Angeles. Known for its 21-mile strip of pristine shoreline and expensive beachfront properties, Malibu has served as a home to the Hollywood elite for
decades
. Most residents of this affluent city live within a few hundred yards of Pacific Coast Highway, otherwise known as State Route 1; however, the city stretches up to five miles away from the beach and into the narrow canyons, so real estate seekers have the choice between coastline properties and mountainside estates.
Malibu real estate includes a number of charming and beautiful
neighborhoods
, each with its own unique features and amenities. So, if you're relocating to this beachside community and seeking that beach vibe and coastal lifestyle, read on for
Mark Gruskin
's guide to the 10 best neighborhoods in Malibu.
1. Point Dume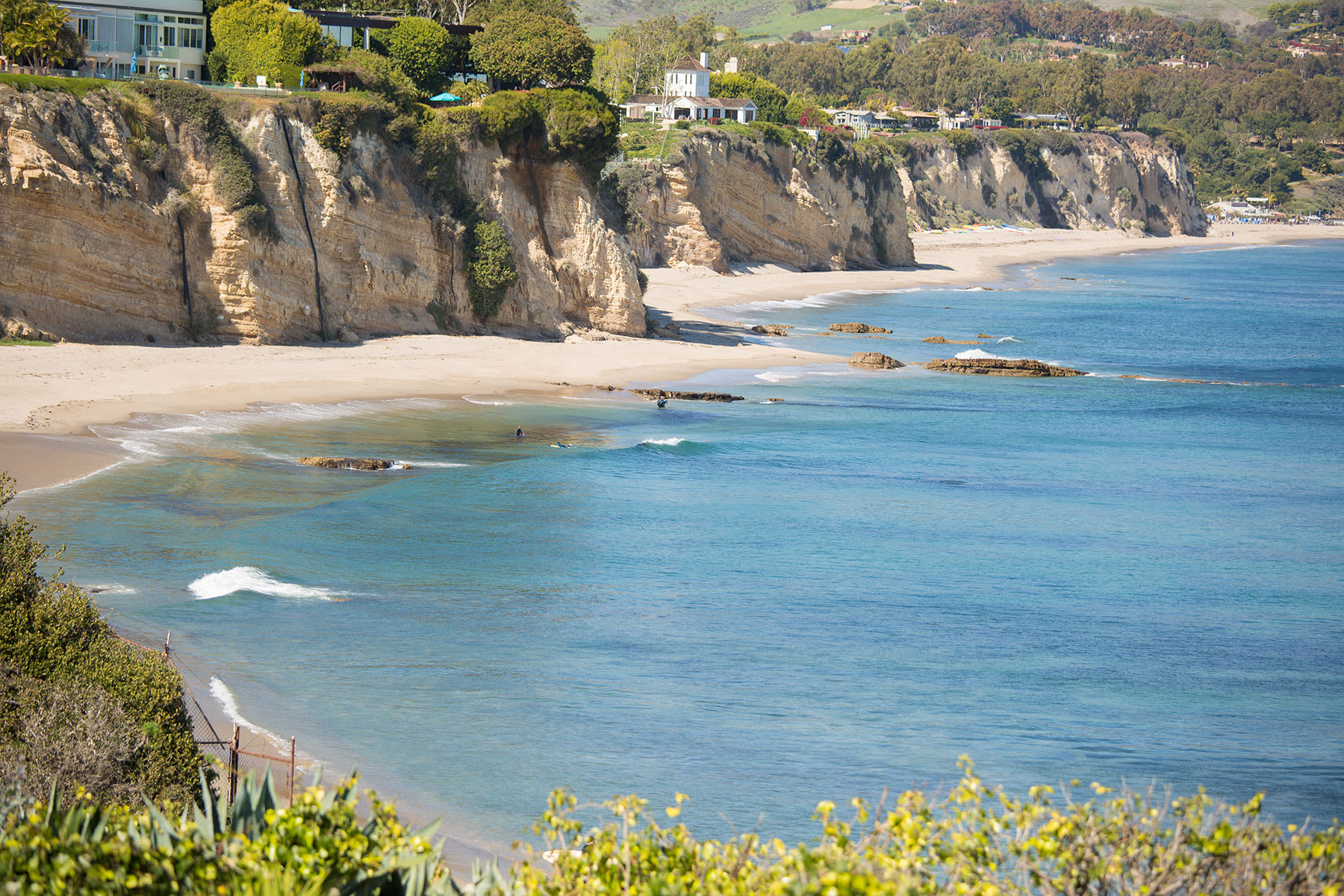 Little Dume. Photo courtesy of Mark Gruskin
If you're looking for an oceanside oasis and the coveted "beach key," Point Dume is the perfect spot. The real estate scene here is full of stunning cliffside Point Dume estates raised on a bluff overlooking the ocean, giving residents unparalleled views over Santa Monica Bay.
Because of the breathtaking vistas and sensational surfing beaches,
Point Dume real estate
has exploded in recent years, as the community is widely renowned for its stunning properties and luxurious atmosphere. Many residents of Point Dume are families, which means it's a great place to set down roots.
2. Malibu West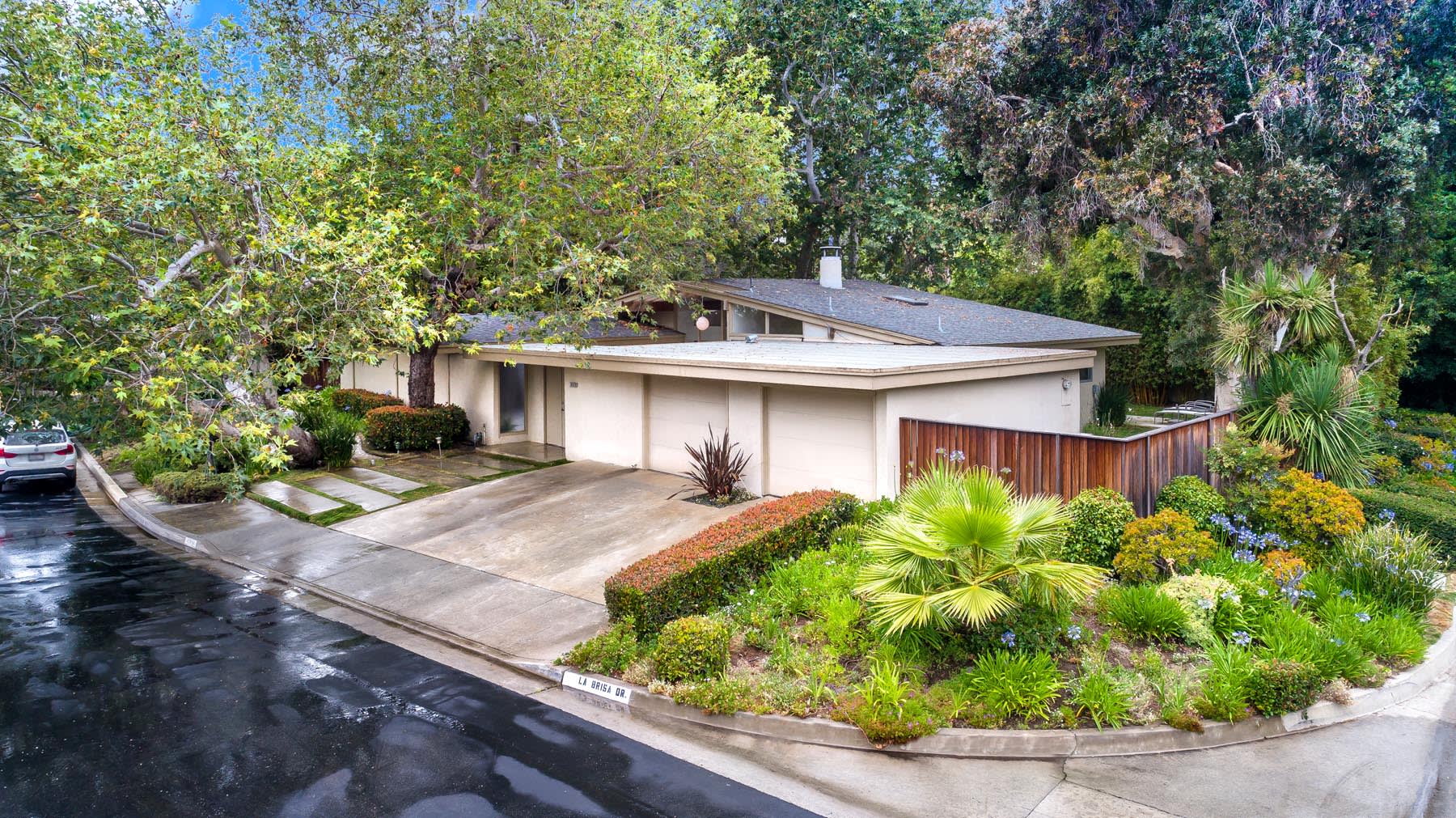 FOR LEASE: 30739 La Brisa Dr. Malibu West
Located just north of Zuma Beach, Malibu West is another fantastic neighborhood for families and young children. The area is full of one- and two-story mid century modern and ranch-style homes, with many properties recently restored. Unlike other Malibu neighborhoods, Malibu West doesn't have dramatic cliffside estates, which makes the area more affordable. Still, Malibu West is within easy reach of the beach whenever you hear the sand calling your name, and it has its own private beach club for the neighborhood. The canyon area of Malibu West is full of tree-lined sidewalks and peaceful properties with gorgeous views of the surrounding mountainsides.
Malibu West is just a short walk away from Trancas Country Market, where residents can shop or dine to their hearts' delight. The Malibu West Beach Club is a popular and prestigious private event venue with fantastic views of the surrounding surf.
3. Big Rock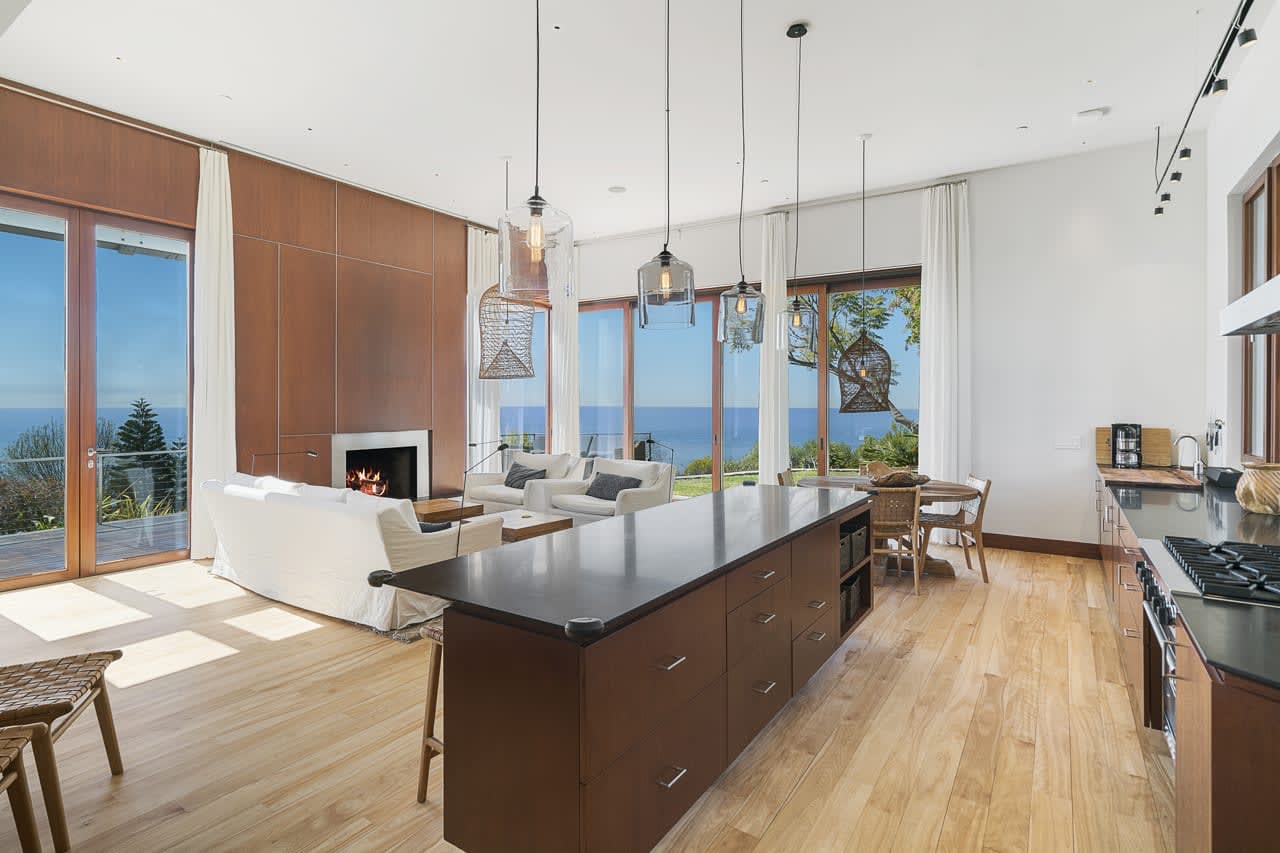 FOR LEASE: 20851 Big Rock Dr., Malibu
As one of the first Malibu neighborhoods you enter as you drive up PCH from the Pacific Palisades, Big Rock stretches from the water's edge and up the canyon on Big Rock Drive, with homes overlooking the Pacific Ocean. Views from this community boast panoramic vistas of the Malibu shore, making it a great location for those looking for an ocean view property. Homes in this area, which start at around $3 million, are nestled in the surrounding foliage along the hillside. Big Rock is a tranquil, secluded, and tight-knit community perfect for families. Big Rock Beach itself is named after the gigantic rock that sits along the gorgeous shoreline.
4. Broad Beach
Between Zuma and El Matador Beach, you'll find the stunning community of Broad Beach. With a gorgeous shoreline and stunning real estate, the area is highly sought-after for those seeking luxury. The beach here is a fantastic spot for walking, swimming and surfing, and the coast along Broad Beach is typically less crowded than neighboring Zuma.

Homes for sale in Broad Beach are as beautiful and grand as they come, with picturesque views of the waves and Santa Monica mountains, wide windows to let in the breeze off the ocean, and spacious lot sizes with outdoor patios.
Historically, this neighborhood in Malibu has been home to Hollywood's elite. Spencer Tracy and Katharine Hepburn rented a house here in the '60s, and Steve McQueen lived in a multilevel home in the '70s (now for sale). Today, the area is home to big-name movie stars, including Robert De Niro, Pierce Brosnan, and Dustin Hoffman, as told by the Daily Mail.
5. Encinal Hills
Found on the north side of Malibu, just past Trancas Canyon features large cul-de-sac estate homes sitting on multiple acres of land. Along the roads that wind up from the coastline, you will find small clusters of luxury homes that include panoramic views of Zuma Beach and Point Dume. This quiet area highly values its privacy, and many of the houses in the area are legally zoned to be spaced out a specific distance from each other. Here, you'll find a mixture of spacious estates, condominiums, and single-family properties, perfect for families. Residents enjoy a quick trip to the beach or shopping at Trancas Country Market.
6. Malibu Park
Originally an equestrian community with easy access to horse and hiking trails, Malibu Park is a great option for people looking to spend time outdoors in nature. The houses in this area typically sit on large lots of land, which is a huge draw for those looking to own horses. Still, even in "horse country," you are never too far away from the beach — Malibu Park offers an easy commute to the coastline at Zuma.
Most homes in the area were built mid-century and are decked out in lush landscaping and ranch-style designs. Residents enjoy beautiful views of the mountains and ocean, and they have easy access to the trails. They also have easy access to schools as Malibu Middle School and High School are located in this neighborhood.
7. Malibu Colony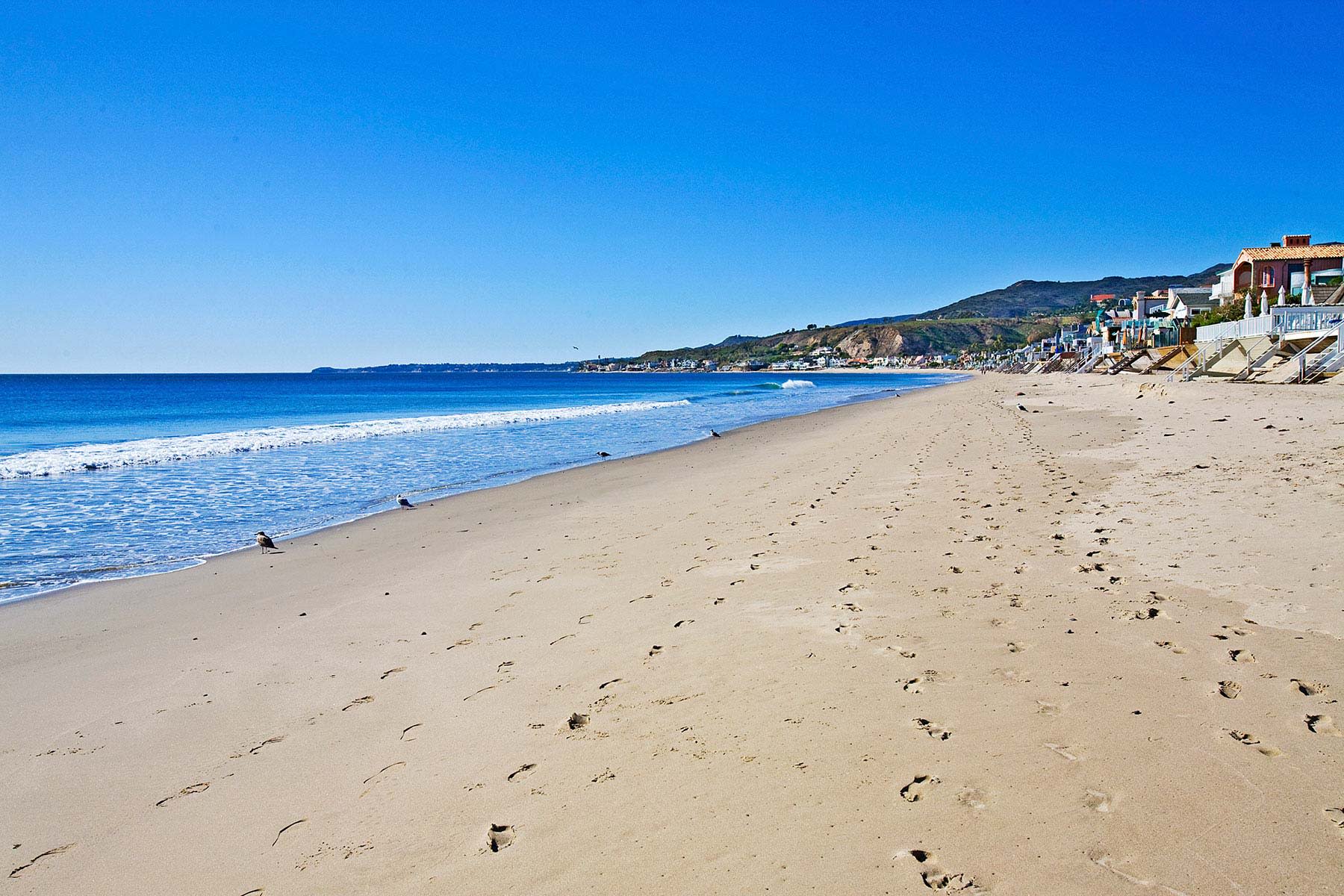 Malibu Colony Beach. Photo courtesy of Mark Gruskin
Sitting north of the nearby Malibu Lagoon State Beach, the storied oceanside community of Malibu Colony is a "happening" spot to live in Malibu. Buying or renting a house in this neighborhood means you will be a neighbor to business moguls and celebrities alike. Residents include everybody from actors and directors to CEOs and wealthy tech entrepreneurs. If you're looking for that Hollywood life, this is the neighborhood for you; however, that does come with a hefty price tag, as homes in the Colony are some of the priciest in the city, according to
Curbed Los Angeles
. Properties here are guard gated and offer stunning views of the ocean.
8. Malibu Road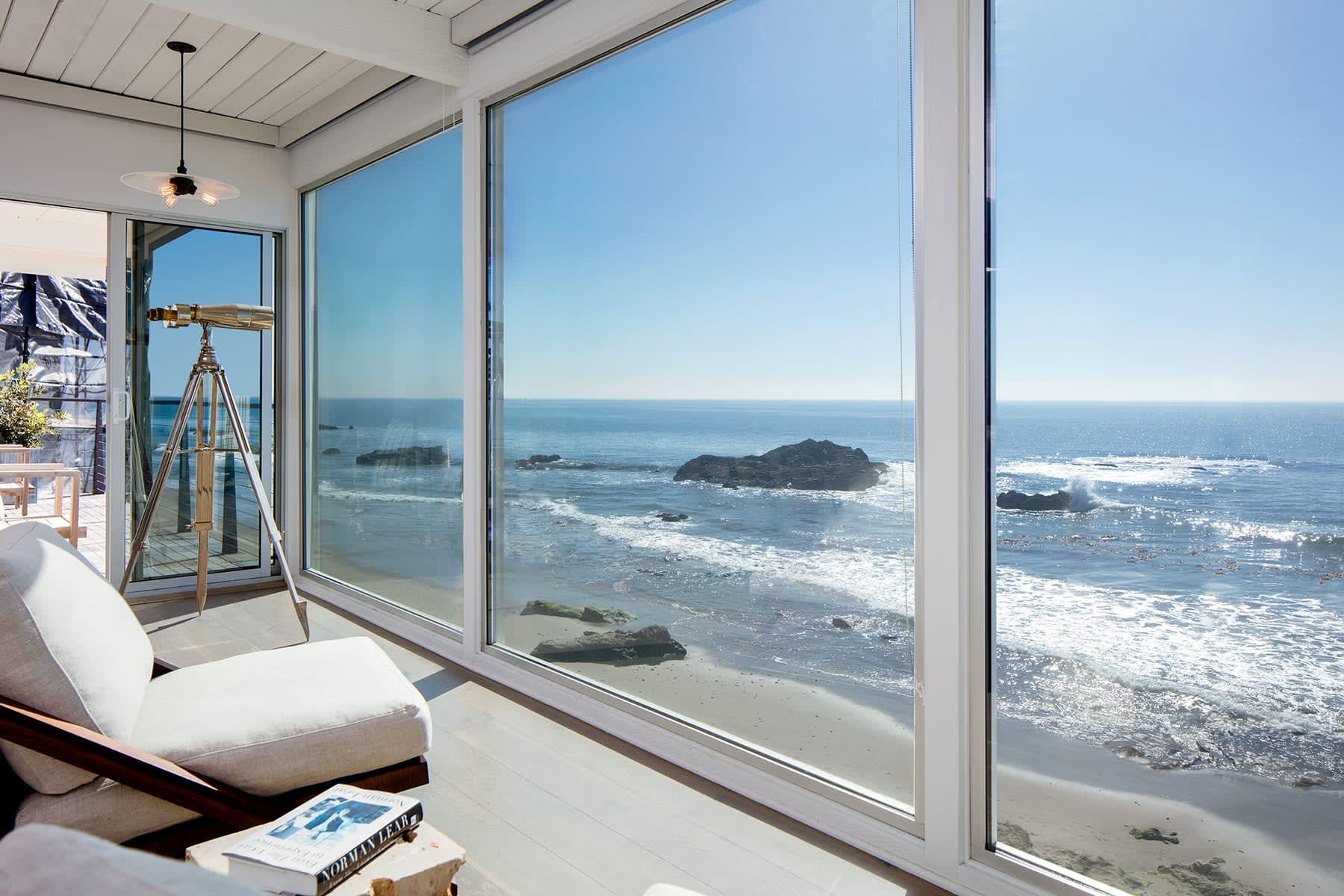 SOLD: 25006 Malibu Rd. Malibu
Malibu Road real estate is prestigious and well-known for its glamor and appeal. Affectionately known as "The Road" by locals, Malibu Road was originally part of the Pacific Coast Highway until it was moved inland in 1948. Now, the stretch of road is dotted with luxury houses and condos that sit directly on the beach.
This community is located next to the Malibu Colony and similarly offers the peace and quiet of being off PCH and away from its associated traffic and noise. Residents have easy access to downtown Malibu and can head to the beach anytime they hear the waves calling. Malibu Bluffs Park is also a quick walk away, where families can enjoy the soccer fields, baseball diamonds, picnic spots, and walking trails.
9. Las Tunas Beach
A small stretch of beautiful oceanfront property at the eastern end of Malibu is Las Tunas Beach, just west of Topanga Beach. Homes in this neighborhood are built up on top of the wet-sand beach below, with waves breaking down below the homes when the tides are high. One of the biggest selling points of this neighborhood is that the homes here can offer a lot of beach frontage and incredible vistas of the ocean and city lights of Santa Monica.
10. Paradise Cove
Located just south of Ramirez Canyon, Paradise Cove is a gorgeous, peaceful neighborhood in Malibu filled with beautiful single-family homes and luxury mobile homes. The area offers a small pier and sprawling sandy beaches to explore. Homes in Paradise Cove range from cute mobile homes for $1.3 million all the way up to $100 million plus for a bluff top mansion. Paradise Cove offers residents easy access to its sandy shores, a secluded community atmosphere, and picturesque ocean vistas.
Need help finding your neighborhood?
Malibu real estate is valuable and highly sought-after. If you're looking to relocate to this incredibly stunning area, you will need to find the best neighborhood that suits your needs. Whether you have a family and are looking to set down roots or you want to play neighbor to celebrities, you have plenty of options from which to choose.
If you're ready to tour Malibu Road real estate or homes for sale in Broad Beach, then contact the skilled Realtor and Attorney
Mark Gruskin
today. Mark will get you where you need to go!
*Header photo courtesy of Shutterstock