The gorgeous shoreline of Malibu is calling your name. If you're hoping to invest in a luxury property in this beautiful area, read on for a guide.
Luxury living is considered to be a safe venture by most individuals due to the possibility of cash returns. However, luxury real estate comes with a weightier sticker price. Therefore, when you put a lot of cash into a top-of-the-line, extravagant home, you want to focus on each variable and get a deal that is worth your investment.
For Malibu luxury real estate, such as beach homes in Point Dume, an investment can be enormously productive, especially if you are familiar with the market patterns and know precisely when to make changes. Whether you plan to lease or sell the property, later on, investing in luxurious Malibu real estate ensures worthwhile returns. This piece outlines six things you ought to consider before your investment.
1. Architecture and interior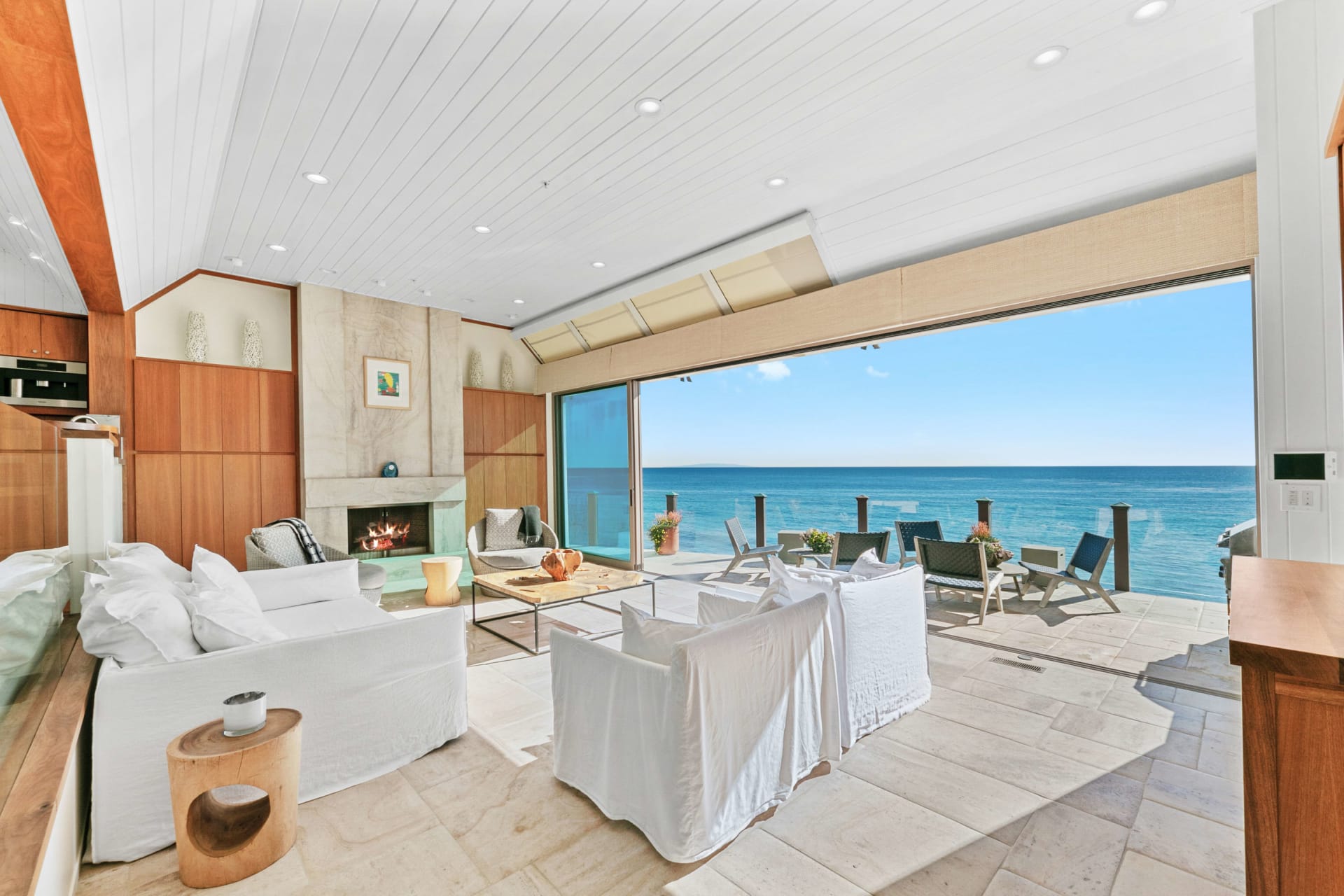 Sold on Escondido Beach. Photo courtesy of Mark Gruskin
Different engineers these days are teaming up with global planners to fabricate a house that offers a first-rate look and feel. Subsequently, the housing market is seeing a far-reaching shift in property planning techniques. Modern designers and engineers nowadays prioritize plans that emphasize prosperity alongside looks.
An exquisite, creative, and solid design is the way to a lavish space. Further, lovely arrangements, a wise framework, and perfect cohesion in design add to the house's appeal. Tall roofs, enormous galleries, sweeping rooms, and delightful plans are only a portion of the many things that comprise a luxurious Malibu home.
2. Price tags
Malibu is one of the priciest areas in Los Angeles County when it comes to real estate. According to the
California Association of Realtors
, the average cost of a single-family home in Malibu as of July 2022 is $4.3 million. It is no surprise that some of the wealthiest individuals in the nation live here.

However, it is essential to note that there is a considerable variety in the cost of homes in the area. These costs depend on a number of factors — for example, whether the home has a sea view and its proximity to the beach. The costs additionally rely on the size of the property.
Malibu homes include huge ocean-side houses, beach manors, and lofts whose exemplary craftsmanship leaves them with extraordinary vistas and allure. The most costly properties are the Malibu houses built near the ocean. If you like the sound of soft sea waves sprinkling against the sand and spectacular beach views, consider purchasing a beach house in Malibu Road.
3. Accessibility
With the Pacific Coast Highway just a few minutes' stroll from your place, you'll have easy access to a major north-south state highway. Besides, you can find all the essential amenities around, including shopping and recreational centers.
However, openness and accessibility also have a significant downside. The public seashores in Malibu are continuously attracting tourists. Therefore, except in the case of a secluded, private ocean-side home, you may rarely have the chance to enjoy complete privacy.
4. Luxurious living and celebrity history
Another component that can add to the luxurious nature of a home is its notoriety. For instance, many Malibu homes have a rich history of some sort — many of them were owned by a superstar in the past, planned and worked on by a popular architect, or designed in a unique historical style. These aspects could significantly raise the residence's sticker price.
Malibu comprises tremendous manors and homes constructed conveniently against the long Malibu shore. Most luxury homes in this area have a stunning sea view (the main reason to choose Malibu, right?). World-renowned stars like
Matthew McConaughey
, Pierce Brosnan, and Barbra Streisand are just some of the celebrities who own a home here. Knowing that most superstar homes are famous for their size and elite conveniences, for example, pools, spas, exercise centers, wine bars, and private seashores, you can expect to find such fanciness all around Malibu.
5. Property location
You should consider the home's proximity to luxury activities and conveniences, for example, first-class hotels and star-rated malls. A prime location increases the property's value. The following are the top aspects that make Malibu a prime property hub:
The beach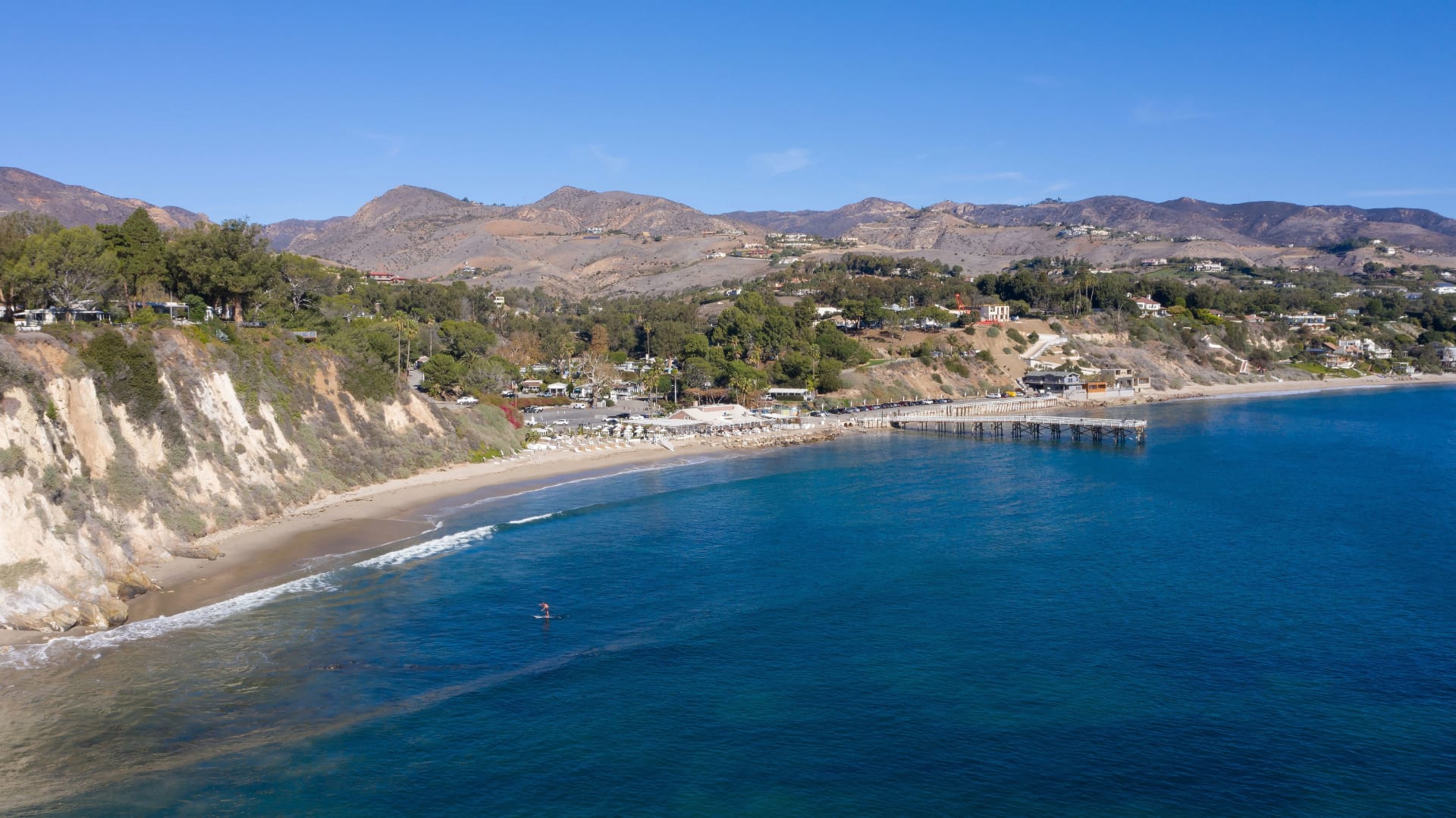 Paradise Cove. Photo courtesy of Mark Gruskin
With luxury Malibu Road real estate, you cannot overlook the importance of being close to the coast. Being by the seaside allows you to unwind in a manner that is nearly impossible in any other spot. The tenderly slanting white sands and shallow waters make these seashores ideal for swimming, surfing, and soaking up the rays.
Some of the best shores in Malibu include El Pescador State Beach, El Matador State Beach, Topanga Beach, Malibu Lagoon State Beach, Leo Carrillo, Zuma Beach, Paradise Cove, Carbon Beach, Surfrider Beach, and Broad Beach.
Carbon (Billionaire's) Beach
offers an exceptional experience since you can see VIPs hanging out on the oceanfront.
Eateries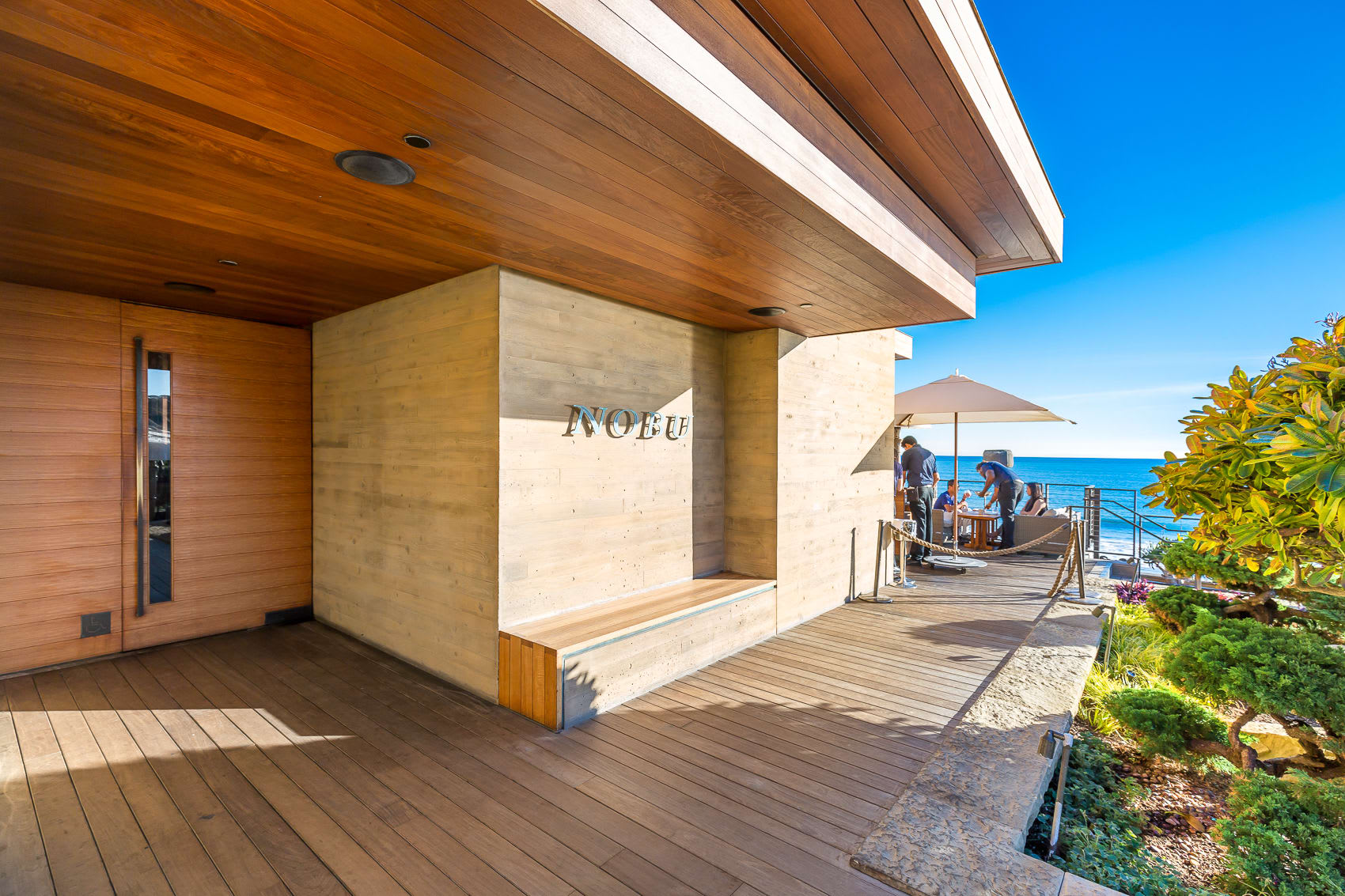 Nobu Malibu. Photo courtesy of Mark Gruskin
Some of Malibu's eateries are popular for offering a heartfelt vibe. There are many bistros up and down the shore which serve scrumptious bites and principal courses in a relaxed setting. One specific eatery,
Paradise Cove Beach Café
, is famous for its Southern Californian vibe. Besides, you can taste a mixed drink while catching a glimpse of the beautiful scenery accorded by the quiet and blue sea.
Shopping
Residents of Malibu have a wide range of retail establishments. The most famous retail outlet is the
Malibu Village
, found just off the Pacific Coastal Highway. It has an extensive assortment of top-of-the-line retail outlets and shops. Here, you can find the most extravagant brands dealing in attire, purses, watches, cosmetics, contraptions, and more.
Entertainment and other fun activities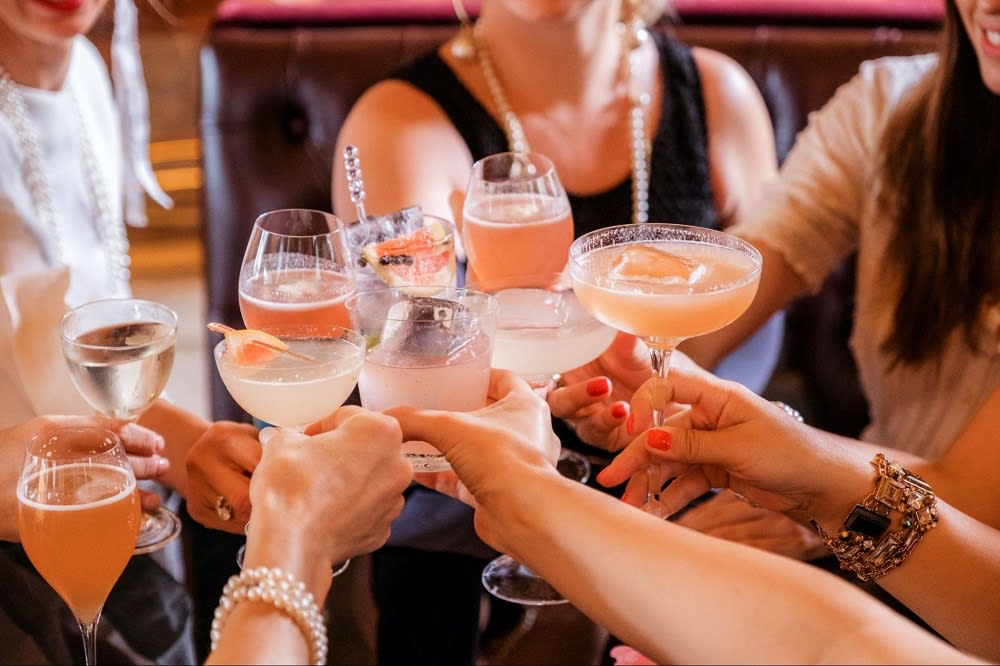 Photo courtesy of Unsplash
Malibu is a lovely spot to live in, considering the numerous fun activities it accommodates. You can go climbing on the somewhat simple three-mile
Grotto Trail
or visit the 150-foot tall
Escondido Falls
. If you favor a more beautiful course, climb the
Solstice Canyon
in the Santa Monica Mountains, where you can catch beautiful glimpses of the sea. Likewise, Malibu has several premier clubhouses, tennis courts, basketball courts, and jungle gyms for kids.
To top it all, Malibu has lavish nightlife. The entire area is brimming with
bars and clubs
open until late into the night. If you love to party, purchasing an extravagant home in Malibu will never be a regrettable decision.
6. Property maintenance
Whether renting the property or using it yourself, have an arrangement for the best way to maintain it. You can keep the property by hiring professional cleaners and maintenance teams. And, if you are renting the property, you might need to consider third-party property management to assist with having everything in line for you.
Contact Westside Estate Agency for all your luxury Malibu real estate concerns
If you want to spend your days under the warm Californian sun by the ocean throughout the entire year, Malibu is an excellent fit. As you prepare to invest in a Malibu Road beach house, you'll want to work with only the best. Reach out to
Mark Gruskin
for the guidance you can trust. He is more than just a realtor, considering his legal background and vast experience in the industry.
Mark
knows all the ins and outs of
Malibu real estate
and has dedicated himself to excellent customer service and creative problem-solving. Connect with him today!
*Header photo courtesy of Mark Gruskin